When missing teeth create gaps in your smile or make it difficult to eat or speak, partial dentures can be a complete solution. Often viewed as just a cosmetic fix, dentures function like natural teeth and can help improve your overall oral health. The board certified prosthodontists at The Dental Specialists help thousands of patients throughout the Twin Cities restore their smiles every year with partial dentures custom designed to look and function naturally in their mouths.
Using state-of-the-art technology, we build partial dentures that fit your mouth correctly and match the color of your gums. Partial dentures are often ideal for a patient missing a few teeth but not requiring an entire set of dentures. However, they aren't always the only option. During your initial consultation, we'll discuss the right treatment plan for you. Depending on your oral health, we may recommend crowns or dental implants instead of dentures. By working closely with you and your general dentist, we'll make sure you get the right solution for your smile.
Advantage of partial dentures include:
Fill gaps in your smile with natural-looking, fully functioning prosthetic
Improve speech
Make it easier to chew and eat
Support cheeks and lips to prevent sagging
Prevent your other teeth from shifting
Contact us today to learn more about how partial dentures can help complete your smile.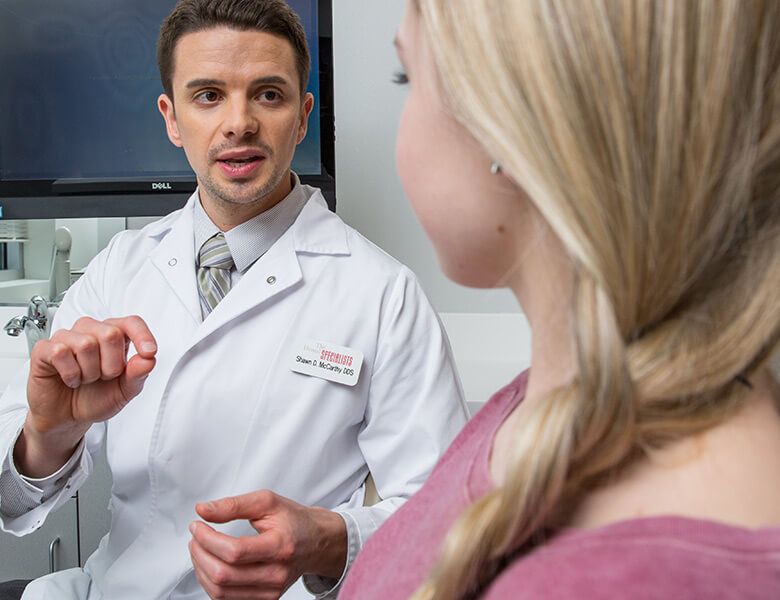 Your Appointment
We make becoming a new patient easy with our online registration system. After you have scheduled your appointment with your dental specialist you will receive instructions to register online prior to your visit. You won't need to bring any paper forms with you the day of your appointment, and you won't need to sit in the waiting room filling out long forms. If you are unable to provide this information online, you will be asked to provide it at the time of your appointment. We request you arrive approximately 20 minutes prior to your appointment to complete the required paperwork.
Request an Appointment
What to Expect
When getting dentures at The Dental Specialists, you should expect to:
Receive efficient, personalized care
Understand all of your options as well as the benefits and risks
Be treated in a manner that makes you as comfortable as possible throughout your entire visit
Receive thorough instructions regarding post-treatment care and any follow-up procedures
Questions to Ask
How do I care for my dentures?
Will my dentures function just like real teeth?
What type of dentures are best for me?
How long does it take to get dentures?
How often should I remove my dentures?
How often will my dentures need to be adjusted?
How do I care for my partial dentures?
Partial dentures need to be cleaned every day. Remove the dentures from your mouth and rinse off any food particles. Use denture cleaner or liquid dish soap to brush your dentures. Be sure to brush gently and only use a special denture brush. Never use toothpaste. Always rinse thoroughly before placing back in your mouth.
Request an appointment with a specialist today!