Welcome Dr. Rivers!
September 3, 2020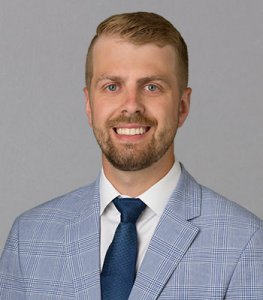 The Dental Specialists is excited to welcome Oral Surgeon, Dr. Christopher Rivers!  Dr. Rivers joined The Dental Specialists in September 2020 and treats patients at our Roseville practice.
Dr. Rivers received his Certificate in Oral and Maxillofacial Surgery from the University of Minnesota School of Dentistry in Minneapolis, MN. He and his team treat a wide range of dental concerns from injuries to the mouth or jaw to disease caused by a tooth infection.  He treats complex cases including placement of dental implants to to more common procedures such as wisdom teeth removal. He says "What I enjoy most about oral and maxillofacial surgery is the broad scope of the specialty.  It is gratifying to be able to enhance people's lives through rehabilitation of their oral condition, repair of traumatic facial injuries, or resolution of infection and pathologic conditions.  My goal is to gain the trust of my patients by treating everyone as if they were a friend or family member." Outside the office, Dr. Rivers enjoys trying new restaurants and sampling craft brews throughout the Twin Cities. As a former collegiate distance runner, he continues to run along the many trails the cities have to offer. He also enjoy cheering for all Minnesota sports teams.
Dr. Rivers will be at our Roseville location on Tuesdays, Wednesdays, Thursdays and Fridays.
Please join us in welcoming Dr. Christopher Rivers to our team!