Welcome Dr. Abusteit!
June 17, 2020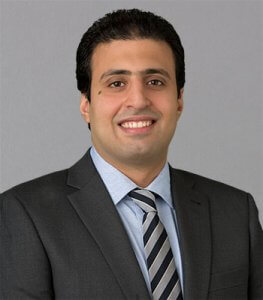 The Dental Specialists is excited to welcome Endodontist, Dr. Omar Abusteit!  Dr. Abusteit joined The Dental Specialists in June 2020 and treats patients at our Burnsville practice.
Dr. Abusteit received his Bachelor of Dental Surgery in 2010 from Cairo University in Cairo, Egypt. He received his specialty Certificate in Endodontics in 2016 from Medical University of South Carolina College of Dental Medicine in Charleston, SC. In addition to practicing with The Dental Specialists, Dr. Abusteit also teaches endodontics at the University of Minnesota School of Dentistry and lectures at professional conferences, both nationally and internationally.  Outside of the office, Dr. Abusteit likes spending time with his family.  He also enjoys running, swimming, and playing soccer.
Dr. Abusteit will be at our Burnsville location on Mondays, Wednesdays, Thursdays and Fridays.
Please join us in welcoming Dr. Omar Abusteit to our team!